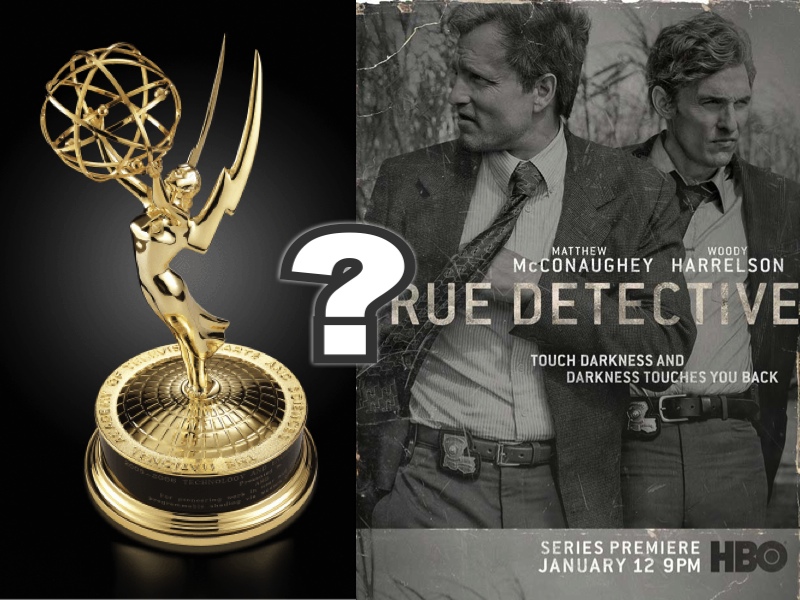 One of the bigger shocks so far in the Emmy season was HBO's True Detective's choice to submit in the drama categories rather than the mini-series categories. The series, which is an anthology series like American Horror Story, would have guaranteed itself wins in Best Miniseries/TV Movie Actor and Directing for a Miniseries/TV Movie. Now, not a single win is guaranteed. To determine whether or not the switch will have an upside I will be looking at each category they are likely to be nominated in.
Drama Writing
Prior to the switch I would have said that the series was relatively safe for a writing nomination. However, as of now I have them in 5th place for a nomination. The issue is that it wasn't a show that was praised for its writing. Is it good? Yes, of course. Was it a standout? No, not by a long shot. If they submit the "The Long Bright Dark (Pilot)" or "Form and Void" I think they have a stronger chance, but I wouldn't be surprised if they were left off.
Did it pay off? NO!
Drama Directing
I'm going to be very brief with this. They were guaranteed a win on the miniseries side, but now they have to contend with Breaking Bad, which hasn't won in this category during its series run, which is both a handicap and an advantage. True Detective's directing has always been a main point of praise for the series, so I still think they win here, but it's going to be an uphill battle.
Did it pay off? Maybe.
Drama Supporting Actress
This one is simple. Michelle Monaghan was guaranteed a win before, but now sits in sixth place with essentially no chance for a win.
Did it pay off? Sorry Michelle, but Anna Gunn gave the best performance of this year.
Drama Actor
Currently in our predictions we have Matthew McConaughey and Woody Harrelson in 2nd and 6th, respectively, for Drama Actor. However, I am going to move McConaughey to 1st, which is also part of the reason I think this is the one category where I think they helped themselves. Because of the Drama category's format of a performer submitting one episode, it gives McConaughey a boost if Harrelson is nominated since voters will essentially see two performance from both actors. The reason I think this helps them is because in miniseries voters are supposed to watch the entire series, this puts both McConaughey and Harrelson at a disadvantage because their strongest scene come mid-season. It is common knowledge that voters don't watch terribly far into any mini-series, so someone with a top heavy season like Martin Freeman in Fargo or in a TV movie like Mark Ruffalo in The Normal Heart will have an advantage. Although, the duo still has to contend with Bryan Cranston, I think voters will respond well to McConaughey's performance in his likely submission of "Who Goes There?"
Did it pay off? Looking like a yes. Unless, Cranston still wins.
Drama Series
This is a hard one to determine. The series currently sits in 3rd to Breaking Bad and Game of Thrones in our predictions and I think it's going to stay that way till the end. A lot of you are going to use the argument that Breaking Bad aired too long ago, but so did Homeland when it won. I am confident that Breaking Bad is going to pull it out to the end. However, had True Detective stayed in Mini-series, I think it still would have lost. Fargo, despite its soft ratings, had one of the best seasons of television in history and voters will know that. They're not stupid. They aren't going to be deaf to the industry backlash that True Detective is getting. Fargo is essentially their only alternative.
Did it pay off? It didn't matter either way