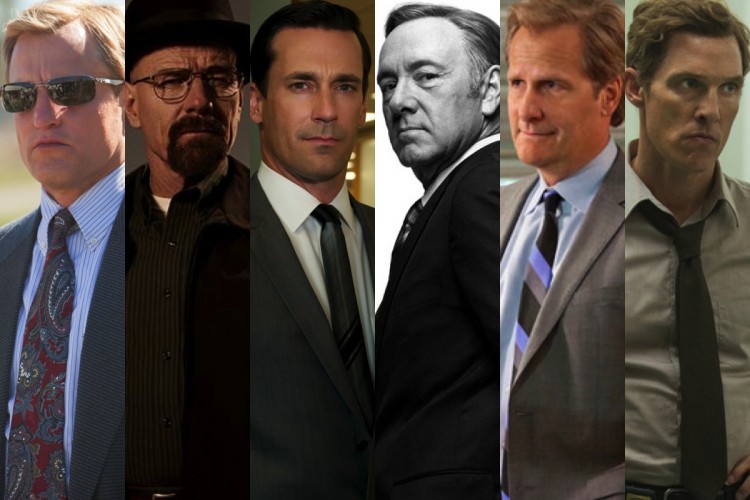 Anyone watching the episode submissions for Lead Actor in a Drama Series it's easy to see who the clear winner is here. If voters didn't pay attention to anything but performance, Bryan Cranston (Breaking Bad) would be a slam dunk for the episode "Ozymandias." However, voters don't have blinders on when they vote. There is a lot of buzz and love for Matthew McConaughey (True Detective). In addition to being lauded for his performance in the show, he also won an Oscar earlier this year and True Detective has been one of the most talked about new shows.
That being said, his episode submission "Form and Void" doesn't give a huge amount of material to show off. He has a great emotional monologue toward the end of the episode, but having a second tape from Woody Harrelson (True Detective) didn't help him any. McConaughey does fine in Harrelson's submission of "The Locked Room", but nothing overwhelming.
I think the real dark horse here is Kevin Spacey (House of Cards). The show was much buzzed about when it was first released and, because of Netflix, it's technically always playing. However, his episode submission "Chapter 26" gives him great scene after scene, including his typewriter scene and of course the infamous desk knock (check out our season 2 Emmy worthy moments here). If voters can't choose between the top two contenders, Spacey could sneak in.
[maxbutton id="3″]


1. Bryan Cranston, Breaking Bad ("Ozymandias")
2. Matthew McConaughey, True Detective ("Form and Void")
3. Kevin Spacey, House of Cards ("Chapter 26")
4. Jon Hamm, Mad Men ("The Strategy")
5. Woody Harrelson, True Detective ("The Locked Room")
6. Jeff Daniels, The Newsroom ("Election Night, Part II")