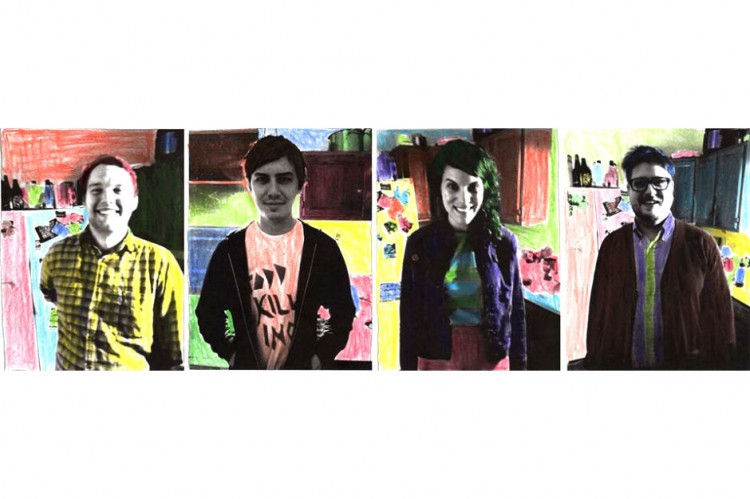 Radiator Hospital makes the kinds of records that your teenaged heart wishes it could have. Principle member Sam Cook-Parrott has meshed punk energy with pop songwriting since 2010 and has steadily stacked his discography with straight-up gems crafted with a great sense of earnestness, and yet all the modesty of a high school secret admirer. On this his 12th (12th!) release, Cook-Parrott delivers a forward-charging, focused batch of songs and stories that, while less idealistic than previous LP Something Wild, refuses to get bogged down in emotional bombast.
Torch Song has a similar feel to it that Superchunk records do, in that you go in knowing what to expect, but never in a "ho-hum" way, because you know the songs will kick ass. And like Superchunk, Radiator Hospital knows how to musically pack a genuine punk sensibility into songs that skew more towards mid-tempo or slower, as is the case with songs like "Cut Your Bangs" and "Five & Dime." At the same time, the more obviously "punk" songs never sacrifice lyrical importance. This is key for an album focused more firmly on reality; as such, "Leather & Lace," "Blue Gown," and "Honeymoon Phase" work beautifully at introducing and sustaining a sense of urgency while ensuring that no chance to develop the record's theme goes wasted. There are plenty of other really cool elements to be found throughout the record, though; from the surfy vibe of "The Eye," to the dive bar, Hold Steady-esque jump of "Midnight Nothing;" the best lead-in Straylight Run never had on "Just May Be The One;" and, of course, the presence of the wonderful Crutchfield sisters on "Blue Gown," "Five & Dime," and the aforementioned "Midnight Nothing."
That's not to say that the album doesn't succeed in its quieter moments. Cook-Parrot can get down with Waxahatchee-style minimalism, as heard on "181935" (try and tell me the line "the dogs are out for blood tonight" hasn't resonated with you before) and "I'm All Right," taking simple guitar/voice arrangements and using them as contrast against the rockier numbers.  The conciseness of his songwriting is great for this kind of variation, and as a result the record has neat dynamics to it. Also, being Torch Song, the album would be incomplete without one, so RadHos delivers, albeit unconventionally, with the two-part "Fireworks". The first part is sung by Maryn Jones (of Saintseneca), the reprise by Cook-Parrott, separated by half an album's worth of songs. Appropriate to its lyrics, this distance mirrors the "another place, another time" feeling of the relationship it describes, and fully realizes the overarching theme of the album.
When comparing Torch Song to Something Wild, production stands out the most. Whereas Something Wild meandered in fidelity, and had a real sense of being recorded in various places (and various distances from the microphone), Torch Song has a more consistent, forward-sitting mix, which keeps the energy up, maintains its momentum, and lets those quiet moments feel more intimate. The only time this doesn't quite come off is in "Sleeping House" which sticks out by being a little too synth-heavy and lurching, despite fulfilling a necessary spot lyrically. However, it does bring about an interesting question: what would Radiator Hospital songs sound like with more synth?  Altogether, a big shout out needs to be given to engineer Kyle Gilbride and his mobile recording rig Wherever Audio for continuing to prove that DIY recording can have great results and bring the most out of great songs.
Torch Song is another solid release from a band with almost exclusively solid releases. There are a few outright jams to be found here, and a slew of other songs with sticky enough melodies and hooks that will find their way into your subconscious. In an efficient 33 minutes, Radiator Hospital delivers a batch of experiences and stories that lend themselves to numerous replays.