A great homage to the 70s crime films, A Most Violent Year doesn't need flash to be an intense thriller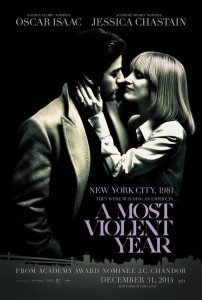 There's a scene about a third of the way through A Most Violent Year that outlines exactly what the movie is about. After striking a deer on their way home from a dinner, Abel (Oscar Isaac) gets out of the car to put the animal out of its misery. He stares at the helpless creature for a couple seconds before gun shots are heard. His wife Anna (Jessica Chastain) shot the deer, possibly to excess, while Abel just stood aside. It's a simple scene, but you don't really know its purpose until after it's over. That is the beauty of the film and J.C. Chandor as a screenwriter and director. He gives enough exposition to his audience to ensure that they can follow the story at hand, but he maintains an ambiguity that keeps us hooked. He keeps us at arms length to let us decide for ourselves what his films are really about.
A Most Violent Year will be best enjoyed if you know little about the plot of the film. I say this about a lot of movies, but I highly urge you to maybe skip reading the synopsis on this one. Why? It so adroitly sets up its story, characters, and plot that if you know anything ahead of time part of the charm is taken away. All you need to know is that 1981 was one of the most violent years in the history of New York City and Abel Morales (Oscar Isaac), his wife Anna (Jessica Chastain), and their heating business are being dragged into it.




The film takes place at a very specific time in both period and style. It may be set in 1981, a time when New York was a lot more gritty (I know, it's hard to imagine) and unforgiving than now, but the film is stylistically very similar to films of the 70s, one of the greatest decades for cinema. The decade produced some of the best films of all time, however films like The Godfather and Taxi Driver are some of the most memorable. It was a time when the subject matter was as dark as the films' dimly lit sets and their muted color palettes relied on tones only the earth could provide. The mafia ruled the screens and honor and tradition were the main points of conflict. This is why A Most Violent Year succeeds. It is able to so adroitly replicate the slow, but emotional taxing, burn of those films.
Yes, the film may be slow, but you'll never be jaded. J.C Chandor controls the screen with his gripping atmosphere that keeps you guessing. You can never truly rest because the stakes are never lessened, the threats never dissipated, and the enemies never eliminated. What I've continually noticed from Chandor is that he doesn't need a lot to speak thousands in his films. He thrives on the simplicity of dialogue and the simplicity of direction. However, he never shies away from the occasional moments of high intensity action.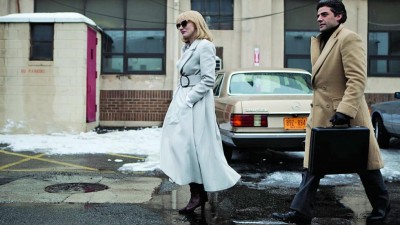 If Chandor is responsible for the body of the film, then the head and heart belong to the Oscar-worthy performances by Oscar Isaac and Jessica Chastain. There aren't many dramatics in the film. The characters are very calculating in all their actions, as are the actors. Isaac has the makings of a young Robert DeNiro or Al Pacino, but so many lines come very close to a "you come into my house on the day my daughter is to be married" type delivery on some lines of dialogue that you could even say some Marlon Brando comes through.
I'm hesitant to call the movie a "gangster film" since Abel spends so much of the movie trying to dodge the title, so instead I'm going to consider a social commentary on violence. Between Isaac's Abel and Chastain's Ana we get two very specific opinions on its use, however the film goes so much further than that. Like I said, it's what you make of it.




What I thought the film was trying to say is going to be different from what you think. In my opinion, when you throw in David Oyelowo's Lawrence and Elyes Gabel's Julian, the film becomes a look at success and what will be done to obtain it. It looks at the cruelty of the "American dream." There's an immigrant Abel who worked an honest living to obtain his father-in-law's company. Julian, also an immigrant, who thinks that he's entitled to the American dream. Then Lawrence, who's true motivations I'm going to hold off on.
A Most Violent Year is going to go over some people's heads. What they will see on screen is a boring crime film that doesn't even have real gangsters in it. They'll be looking for The Sopranos, but they'll get something completely different. It's when you realize that under the dimly lit sets and the bleak color palettes that you realize the movie is as manipulative as its characters.