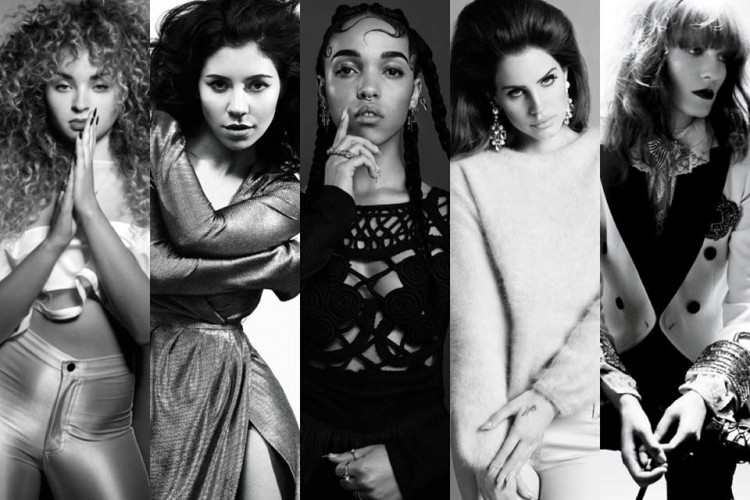 Music has always been enchanted by the beautiful vocals of strong female artists from Tina Turner to Madonna and Pat Benatar to Aretha Franklin. Presently, we have a beautifully diverse and expansive array of female vocalists to enjoy, but I chose five incredibly talented women to talk about today. Of course we have the stunning Beyonce, Rihanna, and Lady Gaga who are dominating the radio waves, but I wanted to focus this article on five spectacular female vocalists who deserve to be lauded as the musical goddesses that they are. This article is meant to celebrate their indie roots, bodies of work, and immense talent that these five gorgeous women of music all have in common. Below, I have written an article of the top five female vocalists in no specific ranking order because they are all too divine and talented to rank against one another.
Lana Del Rey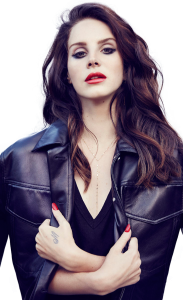 Lana Del Rey bewitches us with glimmering and stoic lyrics shrouded in endearing and mysterious melodies. The enigmatic singer-songwriter has graced our ears with three fantastic albums Paradise, Born to Die, and Ultraviolence. With plans for her fourth album Honeymoon ("Honeymoon" reviewed here. "High by the Beach" reviewed here) to drop this September, Lana Del Rey has experienced much success and an ever-growing fan base. On top of these successes, Lana has made beautiful and iconic songs for films such as The Great Gatsby, Maleficent, and Big Eyes. Lana enchants her audience with sexy, sultry, and alluring lyrics of jilted lovers, lost flames, and insalubrious relationships with a volatile mixture of addiction and tainted love.
Lana Del Rey easily transports her fans back to the glamourous and drug-infused age of the 60s, when the rebellion of love, peace, and freedom was in full effect. Drawing inspiration from Courtney Love, Jim Morrison, and Kurt Cobain, Lana easily enthralls us with songs that are reminiscent of the days when musical legends like the aforementioned graced us with their music before they were taken from us too soon. Lana's tracks like "Born to Die" and "Summertime Sadness" have experienced stupendous mainstream success, but I urge anyone who has not done so already to listen to more of Lana's music, especially her unreleased tracks like "Angels Forever," "JFK," and "You, Mister." Lana has such a beautiful and breath-taking body of work that deserves endless praise, and if you enjoy her singles, you will love the other tracks from her blissful albums.
FKA Twigs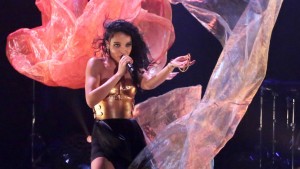 When you first listen to FKA Twigs or watch one of her artistic music videos, you may be taken aback by her style. She has an avant-garde approach to artistry that some are not used to. I have grown to love the mysteriously puzzling songs from the strikingly gorgeous Miss Twigs. Her LP1 has been received with much praise, and I am as much of a fan of her EP2 as I am of her LP. Only a year after her debut album, Twigs has released her newest EP M3LL155X (reviewed here), and her music and videos are the mark of a visionary with unique flair unparalleled by her contemporaries. In her self-directed music video for her track "Glass and Patron," which will appear on her latest album, FKA Twigs gives birth to a vogue-battle to match Madonna herself.
Starting as a backup dancer at 17, Twigs' career has blossomed in the indie circuits, and she continues to impress us with mystifying and dark music paired with imaginative videos that tell a story in itself. In her video for "Two Weeks," FKA Twigs harkens back to the late Aaliyah in Queen of The Damned. What I truly admire about Twigs is her grounded personality, and I love that she does not change to fit the mold of Hollywood. Her lustful voice and dancing mixed with artistic imagery and avant-garde styling blend together seamlessly. FKA Twigs is not only a fantastic artist, but she sticks to her visions and appeals to her fan base that understands and appreciates her for her idiosyncratic style, and she does not sell out to make a buck. I suggest you watch FKA Twigs perform on the The Tonight Show Starring Jimmy Fallon to see how Twigs truly graces the stage with a marvelous voice and ethereal flair.
Marina & The Diamonds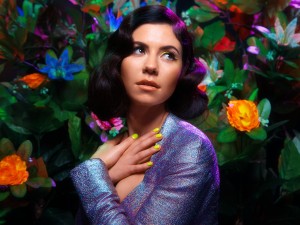 The queen of bubblegum and electra-pop has intrigued her audience with her first two albums The Family Jewels and Electra Heart, and she has moved in to a new stage of her career with her latest album Froot. With pop hits like "How to Be a Heartbreaker" and "Primadonna Girl," Marina solidified her seat among her female vocalist contemporaries. On top of feel-good songs, Marina has addressed serious subjects with captivating songs like "Teen Idle" and "Fear & Loathing." Marina performed at The Governor's Ball at Randall's Island the first weekend of June, and she put on an amazing and lively performance, donning a Froot headband.
Fusing together indie vibes with mainstream pop, Marina has found great success and a platform to mature as an artist. I thoroughly enjoy her constant mixture of bright, airy songs and videos paired with serious, vulnerable tracks on her album. With beauty and a tremendous voice, Marina and The Diamonds easily makes the list as one of the top female vocalists of our time. A multidimensional artist, Marina and The Diamonds continues to mature as an artist, produce soothing yet infectious tracks, and appeal to everyone's inner primadonna girl.
Florence + The Machine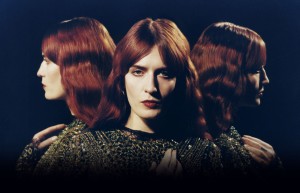 I still remember the day Florence Welch exploded on the scene with her hit "Dog Days Are Over," and she has released two rhythmically marvelous albums Lungs and Ceremonials. Recently, Florence has released her latest superb album How Big, How Blue, How Beautiful with emotionally charged tracks like "Ship to Wreck" and "Saint Jude." As she graced the stage of The Governor's Ball this past June, she enthusiastically greeted her audience with a bubbly demeanor and a healing foot (broken at Coachella), which did not impede her vivacious and infectious dancing around stage. As she finds catharsis through the music she creates, Florence bestows upon us album after album of beautifully crafted lyrics and vocals to leave you astounded.
In addition to powerful lyrics with vocals to match, Florence has appeared on tracks with Calvin Harris like "Sweet Nothing" back in 2012. Florence's music has appeared in numerous blockbuster movies including The Great Gatsby, Snow White and The Huntsman, and The Twilight Saga: Eclipse. "Over the Love" from The Great Gatsby is one of the most dark yet stunning tracks that I have ever heard. Her newer track "Ship to Wreck" was filmed in her very own home, and it depicts Florence battling herself on the physical and emotional level. I absolutely adore Florence for her tremendous talent, endearingly effervescent personality, and her ability to bare her soul in such a vulnerable way through her art for all to see.
Ella Eyre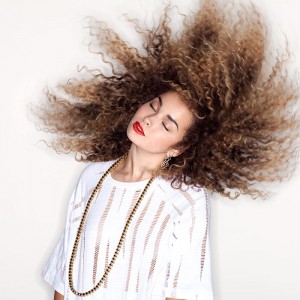 The powerhouse voice behind Rudimental's hit "Waiting All Night" is the stunningly gorgeous Ella Eyre. With a booming voice reminiscent of the late Amy Winehouse, Eyre puts her tremendous talent to good use with tracks like "Comeback," "Deeper," and "Together." Eyre establishes a beguiling melody with stunning vocals in "Comeback," and, in my opinion, she has immense star potential. In the video for this track, Ella combats the frustrations of an unfaithful boyfriend, and she does so in a style similar to Beyonce's smash hit "Crazy in Love" released in 2003. If you are looking for an infectious song with a catchy and empowering chorus, then this track is perfect for you.
Her two EPs, Deeper and Ella Eyre, are constituted of alluring vocals, catchy melodies, and an overall stylish aptitude that I was immediately thrilled with. I expect to see a lot more of Miss Eyre because I think she has all the makings for an extremely successful female artist. She is capable of creating songs that range from infectious, up-beat tracks to those fused with a tang of R&B and old-school vibes that I was equally pleased with. Keep an eye out for all the gorgeous ladies from this post, especially the up-and-coming Ella Eyre!