The Book of Joe is an often hilarious and sometimes sweet take on the life of a man of a certain age.
I think nailing comedy in a book is a lot harder than a lot of people think. It is difficult to get a joke to land properly when you can't control its pacing or timing. However, Jonathan Tropper has a way with words that it doesn't need to be a set-up and punchline set-up to be funny. He's just a damn funny writer. That's why the clear plot issues in his debut Plan B are easy to look over when you're laughing at the fact that three grown adults are arguing over how to knock someone out properly.
The Book of Joe, his second novel, takes that biting humor and puts into that "return to hometown" plot. However, although those types of books and movies get tedious and cloying, Tropper's overall wittiness and brutal humor make it a refreshing read. The novel tells the story of Joe Goffman, a bestselling offer who did what any great writer does — write from experience. In his case, he writes about his hometown Bush Falls, the people, and his experiences. His book becomes a hit and is turned into a popular movie. He never thought he would have to return to Bush Falls again. That is until his father falls into a coma.
His return to the Falls is obviously not received. It seems that everybody in the town hates him. Well, almost everybody. His old best friend Wayne still accepts him, who ends up being the source for much of his growth in the book, and his nephew, who seems to always be in the wrong place at the right time. However, the hatred in the town is palpable. As evidenced by the milkshake thrown in his face shortly after he arrives and an assault by the town's book club with copies of Bush Falls. Needless to say, the town isn't happy with Joe's "exposé," which he even admits is fair considering he was brutal in his literary assault on the citizens of Bush Falls.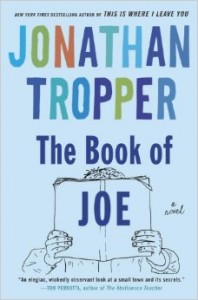 Some of the plot devices aren't too inspired — sick father who was never loving, a dead mother, a popular older brother, an awkward return to a hometown. However, Tropper tames them by adequately giving a reason behind their existence. What plot lines do work are the ones involving his high school best friends Wayne and Sammy, and his high school girlfriend Carly.
The first half of the novel alternates between present day and the fictional Bush Falls novel that Joe wrote. Giving backstory while the action takes place is a huge reason why the first half is so successful. Sometimes, the passages from Bush Falls even surpass the present because of its pure quality in writing. Though characters get mopped up into stereotypes like the best friend's hot mom or the closeted star athlete, Tropper makes up for it with depth in others.
Tropper tends to write about 30-somethings going through radical changes in life. However, you don't have to be a 30-something to enjoy this book. A vein of regret, loneliness, and redemption run through the novel. There are surprising moments of genius in his writing:
"Loneliness doesn't exist on any single plane of consciousness. It's generally a low throb, barely audible, like the hum of a Mercedes engine in park, but every so often the demands of the highway call for a burst of acceleration, and the hum becomes a thunderous, elemental roar, and once again you're reminded of what this baby's carrying under the hood."
[Tweet ""Loneliness doesn't exist on any single plane of consciousness." – The Book of Joe"]
It's what Tropper does best, he caters to the everyday person — the person that may not be looking for the next Crime and Punishment, but for an easy and entertaining read that has enough depth to keep it engaging. The language he uses will appeal to the highly visual reader who plays a movie in their head while they read. He has surprising passages of genius that still use his witty and hilarious style.
"To err, as they say, is human. To forgive is divine. To err by withholding your forgiveness until it's too late is to become divinely fucked up."
He made some missteps in the second half. Mainly, the lack of flashbacks bogs down the story a bit (which it usually does the opposite), and the main character's growth becomes a bit stunted. However, the character of Wayne is able to drive and protect the second half from
The Book of Joe doesn't come close to reaching the heights of This Is Where I Leave You, though I'm afraid he may never, but it does make for unexpected read. With surprising themes of regret, forgiveness, loneliness, and redemption, The Book of Joe will thoroughly entertain you, tug at your heart, and, eventually give you hope that life can be put back onto track. 7.5/10