Best Supporting Actor is looking like it's going to go to Mahershala Ali for Moonlight. However, there is certainly room for an upset.
While it took a while for the race for Best Supporting Actor to take shape, a clear frontrunner has emerged in Mahershala Ali (Moonlight). His towering performance was a favorite among the early critic awards (and in my review for the movie) and he will certainly be swept along with the buzz for the movie. Plus, the Best Picture frontrunners tend to win an acting award. So, if Moonlight remains popular, then Ali could be taken along. His loss at the Globes and BAFTA is telling, though. It shows that he isn't infallible like Viola Davis (Fences) over in supporting actress. 
Starting with the actor with the smallest chance of upsetting is Michael Shannon (Nocturnal Animals). He was probably the most critically-acclaimed actor in the film despite the odd Aaron Taylor-Johnson win at the Golden Globes. However, no acting award winner has won the Oscar after being snubbed by the Globes and SAG — Marcia Gay Harden is the only actor to pull this off. Plus, his film was shut out from all the other categories. So, Shannon probably doesn't need to worry about preparing a speech.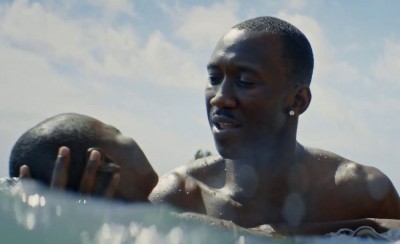 Check Out: Will Moonlight, La La Land, or Manchester by the Sea win Best Picture?




Lucas Hedges (Manchester by the Sea) has the benefit of pretty much being a co-lead to Casey Affleck. Though the supporting actor category is a lot less prone to category fraud as the actress counterpart, when it does happen, it seems like it's more of a pro than a con. However, there is a bigger statistic going against him. The Academy tends to award older and more veteran actors. In fact, supporting actor has become a sort of lifetime achievement award — Christopher Plummer, Alan Arkin, Morgan Freeman. And at the ripe age of 20, Hedges is the youngest nominee this year in any category. Unless there is a sudden and unexpected Manchester sweep, it's safe to say he probably won't win.
Who I do think has a chance at upsetting Ali is Jeff Bridges (Hell or High Water). His grizzled police officer role is a popular type for the older and whiter Academy. Plus, Bridges is a very popular actor. In thus Trump era we're in, he would be the alternative for voters that skew towards that demographic.
The nominee with the best chance at beating Ali is Dev Patel (Lion). With the great Harvey Weinstein behind him fueling his campaign, Patel will have a strong narrative behind him. He's been in the industry for a while and was snubbed for his main role in the Best Picture winning Slumdog Millionaire. He has a lot of screentime in a really meaty role. Plus, I think Lion is the dark horse contender in a lot of categories. It's a feel-good movie with a lot of substance. The biggest indication that he could be the more likely contender than Bridges is his win at BAFTA. While BAFTA isn't exactly the best indicator. It does help with where the momentum is going. While there is no perfect contender to take Ali down, Patel is certainly the closest.
Either way, I think Mahershala should be getting a space set up on his mantel!
Check out the rest of our 2017 Oscar Predictions!
Will Win: Mahershala Ali, Moonlight
Could Win: Dev Patel, Lion
Dark Horse: Jeff Bridges, Hell or High Water
Should Win: Mahershala Ali, Moonlight