Before the Fall is a thrilling mystery that takes the time to dive both into its characters and our society. It's a haven of a book for book nerds.
"For Emma, what made it so hard to return to the tiny apartment in the West Village she shared with two other girls was the sudden realization that for all those weeks of traveling she had been a stowaway in someone else's life, an actor on a stage playing a part. She was a royal escort, the chaste concubine, immersed in servitude for weeks at a time, until the rules and boundaries she set to navigate her professional life became the backbone of her personal life as well. She found herself growing increasingly lonely, an object to be looked at, but never touched."
Before the Fall soars in its ability to create a character, then completely subverting your expectations of them. It is something so beautifully demonstrated in this passage. Noah Hawley's prose is something to marvel at in terms of language. However, when you take into account the emotional intelligence it takes to write about a character at this depth, it becomes one of the most incredible examples of storytelling in recent memory.
In an era of "fake news," the resurgence of conservatism, and the reality television mindset of our society, Before the Fall is a lot more timely than I think was intended. It tells the story of a private charter flight that mysteriously plummets into the ocean sixteen minutes into its flight. Onboard were twelve people — a media mogul, a wall street titan, a security guard — however, only two people escape alive. This simple fact sets off a media firestorm and begins a story about what happens after you're the one that survives.
Check Out: "Sleeping Giants" Book Review: A Unique, Engaging Sci-fi Thriller
The book centers on Scott Burroughs, a down-on-his-luck painter, who by chance meets Maggie, the wife of media mogul David Bateman on Martha's Vineyard. She offers him a ride on their plane since they're both heading to New York. This offer changes Scott's life forever. After waking up in the middle of the dark ocean, he miraculously saves a four-year-old boy who was on the plane by swimming miles to shore. Improbably, yes? It is so improbable that some people think he may have been involved in the crash.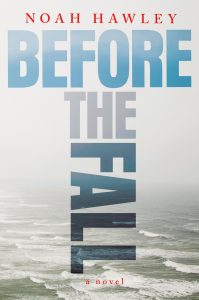 The mystery of how the plane crashed is what bookends the book. However, the real story is the lives of the passengers before and after the crash. How did Scott muster up the strength to save himself a four-year-old boy? How did a man go from a suicide apocalypse cult to flying a private plane? While the stories may seem ridiculous, their effect on the characters and event as a whole are fulfilling.
Bill Cunningham, a Bill O'Reilly type on ALC, is immediately suspicious of Scott and his place on board. Of course, as a conservative, he immediately points to terrorism. Cunningham is doing everything in his power (legal and illegally) to find out how he was involved, while NTSB agent Gill Franklin is on Scott's side. As we meet each character before the fateful flight, we have to piece together the clues like an Agatha Christie novel.
As I alluded to earlier, the genius of Before the Fall lies in the character. People like the trophy housewife and the sexy flight attendant take on new meaning with this book. Hawley paints a complex picture of each character and analyzes how their pasts steered them towards the inevitable place on that plane.
Check Out: "Dark Matter" Book Review: A tense, well-plotted thriller
Before the Fall might be a bit difficult to get into at first. It begins slowly. However, The middle section of the book is an enthralling character study and analysis of key actors at the center of a tragedy: the survivors, the victim's family, and the media. It analyzes how these people interlock and interact. More importantly, Hawley has an understanding of how we react to tragedy. It's the last two chapters, though, that make this an incredible triumph of a thriller. As the story finally pieces together, you are treated with a character study and thrilling finale that doesn't disappoint.
Before the Fall is the first book that I completed in 2017, and I couldn't pick a more satisfying start. With mystery, compelling characters, and writing that is poetic and vivid, it's a haven of a book. However, it's commentary on society is one of the most interesting things about it. The amount of commentary is astonishing. From the media to fake news to masculinity, Before the Fall is a book in and of its time. And that's something to marvel at. 9/10
Get Before the Fall in paperback, hardcover, or e-book on Amazon!