With a seemingly endless list of influences, Dan Croll's debut album, Sweet Disarray, is a wonderful amalgamation of songs.
When I first heard Dan Croll's debut album, Sweet Disarray, I was in a folk stage of my life. It didn't help that I worked for an alternative radio station at the time either. And while a few songs jumped out at me like the eponymous "Sweet Disarray" and "Home," I didn't really appreciate the album as a whole. I mean, it's also hard when you have to pick what tracks to spin out of hundreds of CDs coming in. However, after he released two new songs, I revisited the album. What I heard is something completely different from the first time around. Whether it's because my music taste has evolved or I've learned more about music and production, I'm not sure. But it's a really solid effort from a guy that had a big chip on his shoulder.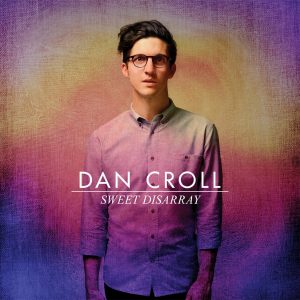 Croll attended the Liverpool Institute of Performing Arts and was chosen as one of eight students to have a one-on-one with none other than Sir Paul McCartney. Needless to say, after the single "From Nowhere" dropped, expectations were high. "From Nowhere" is an interesting song and the perfect one to open the album. It begins with an Afro-beat, which is surprising coming from a lanky white guy with Buddy Holly glasses. But quickly he comes in with a guitar riff that gives it a psychedelic rock and indie pop quality that's hard to nail on first listen.
However, this is just one example of how the album is unidentifiable. "In/Out" is an upbeat indie pop song with electronic elements. "Can You Hear Me," which is my favorite song on the album, is this concoction of a hip hop baseline (including a piano beat from M.O.P.), which mix with Croll's understated vocals and backings to make this bluesy entry.
Part of the reason I'm writing this review is because Sweet Disarray received decidedly mixed reviews. And one common complaint was that he didn't go experimental enough. Well, I think that's a stupid opinion. There's no such thing as being experimental enough. By no means did he play it safe. In fact, to have an album that covers so many genres is already a risk. It can pan out like Twenty One Pilots' Vessel or crash and burn like Lady Gaga's Joanne. Sweet Disarray is a very solid debut by an artist that I think we're going to see many great things. So, where's that second album, Dan? 7.5/10