Packed with fun musical numbers and flashes of humor, Sing Street is enjoyable on both a superficial and emotional level.
John Carney is obsessed with the power of music. It's what his last three films, including Sing Street, are about. Once talks about how music can communicate emotion and is a universal language. Begin Again explores the healing power of music. Carney is interested in how music is used to escape from your life with Sing Street.
This is perhaps the closest he's gotten to a musical so far in his career. It's the first time he has tackled a period piece. Part of the film's success has to be due to its ability to immerse you in the 80s. Everything from the fashion to the music to the society is there. The production is quite impressive. The costumes, in particular, are a highlight. Much of the main character Conor's (Ferdia Walsh-Peelo) knowledge of music comes from his brother – Duran Duran to the Sex Pistols – and that fashion is what they replicate to some success.




Sing Street tells the story of Conor Lalor. During the 80s, Ireland is racked with unemployment and a crumbling economy. His parents are forced to move him to the free state school Synge Street to cut costs. Of course, Brother Baxter, a dictator-like principal, runs the school and sets his sights on Conor for not wearing black shoes no less. The transition to our equivalent of a public school is hard on Conor. He is exposed to violent – possibly sociopathic – teenage boys. On top of that (yes, there's more), his parents are on the verge of splitting up. Though the movie sounds like a kitchen sink drama, we're spared from the melodramatics.
After a few days of torture (both physical and mental) at Synge Street, he sets his eyes on Raphina (Lucy Boynton). She's the object of any 80s teen with big hair, flashy makeup, and a gaze that'll burn right through you. Conor asks her to appear in a music video for his band. The problem is that he doesn't have a band. Cue the making the band montage. Conor teams up with Eamon (Mark McKenna), whose dad is in a traveling cover band, and recruits a keyboardist, drummer, bassist, and manager. Together, they form the band Sing Street.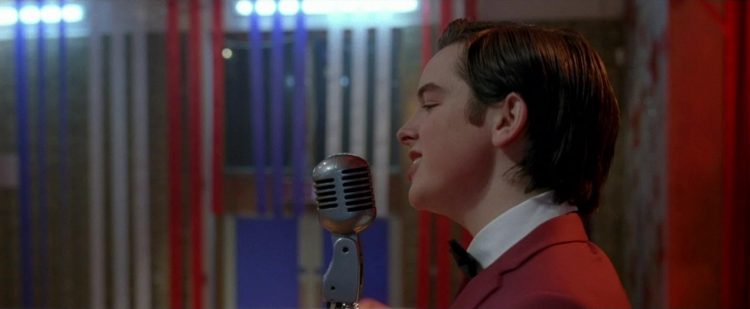 However, underneath the fun musical numbers and making-the-band fantasies is a surprisingly real drama. There's a scene about a third of the way through when Raphina takes her makeup off while she listens to Conor's newest song. This is when the movie goes from a piece of the genre to something more. A lot like La La Land, it's about this dream world that you use to escape the harsh realities of life. However, Sing Street feels a lot more real. It has experiences that more of us know.
Even Brendan, Conor's freewheeling, music-loving brother, has an internal darkness that's eventually revealed. It all comes to a head in the scene when they record the video for "Drive It Like You Stole It." It's the closest the movie gets to fantasy. And it's an enthralling scene. Though, the end leaves you heartbroken. It's a culmination of the harsh realities that Conor faces and his desire for them to simply disappear. Of course, it's just a facade. "Drive it Like You Stole It" may be the best song from a movie last year. Sorry, La La Land. However, in general, the 80s infused score is not only pitch-perfect but so damn catchy.




Despite its dark undertone, Sing Street is incredibly entertaining. I had so much fun watching this movie. That's something that you don't get to say as often anymore. All the characters are likable and come with their own kind of charm. You can believe the relationship at the center of the movie. But what makes the movie truly enjoyable is that you feel the journey that Conor takes. My one quibble with the film is the ending. At first viewing, it felt out of place and unearned. However, an interview with director John Carney quickly assuaged that feeling.
It's hard to pinpoint the one reason Sing Street works so well. It could be the musical numbers or the direction. Plus, the cast and characters are charming. However, I think it works simply because all these pieces fall together seamlessly. Yes, the drama can feel a bit contrived. But it's delivered and packaged in such an entertaining way with memorable characters. It easily lands amongst the best films of the year for me.
★★★★ out of 5


Sing Street is available on DVD, Blu-Ray, and digital on Amazon!