Despite relying on genre cliches, a new setting and distinctly Norwegian point-of-view make The Wave an enjoyable disaster flick
By the time we get to the eponymous wave in 2015's The Wave, we are nearly halfway through the movie. Usually when that happens in a disaster movie, that time feels squandered. But not with The Wave. We feel like we earned the right to see the disaster play out. The build, both for character and plot, is a necessary part of the movie.
Director Roar Uthaug (one of the most amazing names ever committed to a human) said, "I've always been a fan of disaster movies — Twister, Armageddon — but we'd never made a movie like this in Norway before." So, while this is a clear and deliberate emulation of the American genre, it feels unfamiliar in this new setting. Where American disaster movies happen in claustrophobic cities, the Norwegian landscape offers both beauty and mystery.
The Wave doesn't break any genre cliches. What it does do is infuse strong craft into it. A recurring weak point for disaster movies is the screenplay and the movie doesn't do anything to break that streak. We have a few cookie cutter characters — the angsty son, skeptic scientist — that leave you rolling your eyes. On top of that, the movie is just the formula.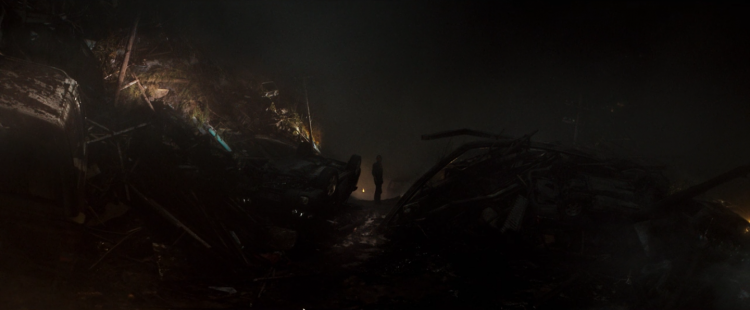 Now, I just need to geek out for a moment. The cinematography in this movie is f***ing amazing. The use of light, in particular, is a masterful piece of filmmaking. By strategically placing on-screen lighting like car headlights and flashlights, cinematographer John Christian Rosenlund creates shadows that beautifully outline the actors. However, it has another purpose. The way that the light, water, and fog play off each other creates a startling vision of hell. Reflections in the water and smoke enact a dream-like quality that mirrors the character's own shock. The lighting coupled with interesting framing gives off a claustrophobic feeling. On top of that, he has a commanding use of color. The best cinematographers don't just "shoot the movie," they add to the emotion. Rosenlund's work does just that. For a movie with some much destruction and that is, at some points, literally lifeless, he injects beauty. It's a truly remarkable achievement.
While The Wave is an incredibly well-made movie, perhaps even the most well-made in the genre, it still falls into the cliches. That's what prevents it from being a great movie. However, I'm glad, proud even, that a wholly American film genre is being attempted in other countries. Familiar movies told from another perspective become something else entirely. While The Wave won't go down as one of the great disaster movies, I hope it starts a new movement of "American disaster movies" being tackled by foreign directors.
7/10
The Wave is available on DVD, Blu-Ray, and digital on Amazon!