Fences doesn't take the opportunity to do anything cinematic with August Wilson's classic source material, however, it does boast career-best performances by Viola Davis and Denzel Washington
Troy Maxson (Denzel Washington) is one of the most complex characters to be committed to stage, and now film. No wonder it took James Earl Jones and Washington to portray his many layers properly on stage. In Fences, August Wilson created a compelling character study of a larger than life man who is living in a world that doesn't recognize him.
Set in Pittsburgh in 1957, Fences follows Troy Maxson, a garbage man who spends each Friday — his payday — drinking with his co-worker and best friend Jim Bono (the great Stephen McKinley Henderson) and telling various stories ranging from his tangle with death to his abusive father. In particular, he dwells on his time as a star baseball player in the Negro Leagues. However, after aging out, he becomes bitter that he was never given the chance to play in the Majors — by the time the film takes place, Jackie Robinson has already broken the color barrier. This resentment coupled with his boisterous personality causes him to convince himself that everyone and everything are stacked against him. Even his wife, Rose (Viola Davis), who has steadily stood by him for years, and his son, Cory (Jovan Adepo), whose success in football brings back the strong memories of baseball in Troy, received a jolt of his rage.




Washington plays Troy as a man who is forgotten in the world, but a huge force to the ones around him. For Troy, he is the lead of his story and never a supporting role in someone else's — a fact that comes to haunt him in regards to his wife. For those closest to him — Rose, Cory, his grown son Lyons (Russell Hornsby) — Troy is the sun that they both revolve around and are threatened to be destroyed by if they fall out of orbit. The one person who has some emotional control over Troy is his brother Gabe (Mykelti Williams — he would have been a fantastic Best Supporting Actor contender at the Oscars), a World War II veteran who was mentally handicapped in the war. His innocence to the situations and Troy's guilt about him is the only thing that gets to him. At one point, Bono says, "some people build fences to keep people out and other people build them to keep people in." While it's an unsubtle nod to the metaphor that is the title, it's an important line that perfectly sums up Troy's unspoken meshes and Rose's attempt to assuage them. Wilson's prose and dialogue remind us that playwrighting and screenwriting are two entirely different things. However, it's lines like those that also remind us why plays are so powerful. They speak the simple truths that often feel out of place in film.
Washington, who along with Davis won a Tony for the Play, stepped into the director's chair to lead the same cast that he performed beside on stage — save for his son, who was played by a different actor in the play. His reverence for the material, which was written by August Wilson himself before his death in 2005, is apparent. He seemingly didn't change a single word from the script, which is admirable but feels like he loses the chance to make something more cinematic. Of course, though, Wilson's script and powerful language are more than enough to make up for any lack of cinematic flourish. If anything, it does more to support the material, which of course is the first job of a director. What he does do, is give each and every actor a place to flex their talents.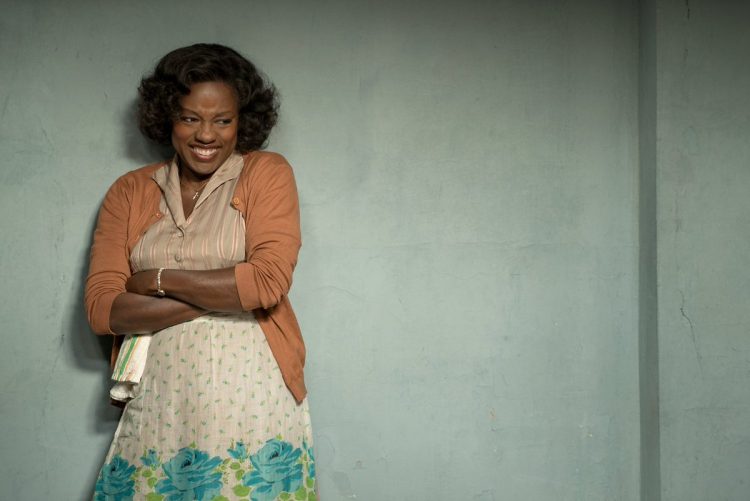 Viola Davis still plays to the back of the house in the film. The now infamous "I've been standing with you" scene will go down as one of the best-acted scenes in history thanks to the emotional flood she is able to release. However, it's the smaller moments, which make the case for the film, that makes her performance, as a whole, great. She carries the weight of her 18 years of marriage on her face. The look she makes when Troy does something to remind her of the terrible hubris that has defined his life and decisions. One day, when she received a life achievement award, her monologue scene will be the one that they include from this movie. However, you can remember her achievement in this film as one of the single greatest performances from beginning to end.
While Fences begins as the story about a man that can't help but absorb all the energy and attention around him, it ends as her story, one of a woman taking back the power she lost for all the years she spent with him. However, the themes run deeper than that. It, of course, touches on the societal issues of the time, but the more interesting, and affecting, is its commentary on parenthood. It asks how you give your children your strengths while protecting them from your weaknesses? How do you prepare your kids from the world and society when it's constantly changing before your eyes? In the case of Troy, he can't grasp the change, which is understandable considering the circumstances he lived in. However, it's his stubbornness of not allowing Cory to grow and live that drives a wedge through his family. His stubbornness and pride is the shadow that follows him. In turn, Troy is the shadow that follows Cory.




There's nothing groundbreaking cinematically in Fences. Any opportunities Washington takes to go outside the setting of the play — the vast majority of the film takes place in his backyard and house — feel out of place. However, there's no doubting that August Wilson's play is one of the great American dramas to ever grace the stage. While it doesn't translate perfectly to film, the performances and emotions do — multiple people, including my friend I was seeing it with, cried at the end. In the end, it's a really important lesson to be mindful of the space you take up in your tiny slice of the world and to leave room for those around you. However, on a macro level, Fences speaks more to our issues today than many people would expect. As Denzel so beautifully put in his SAG speech, August Wilson use his 10-play "Pittsburgh Cycle" to tell the stories of African-Americans that are pushed into the margins of literature, theater, and film. Also, though, Fences portrays what could happen when society constantly denies you the opportunity to advance yourself or simply live.
★★★½ out of 5