Lion is one of the few inspirational true stories that translates beautifully on screen thanks to director Garth Davis and a strong performance by Dev Patel
A Long Way Home, the book that the movie Lion is based on, is essentially devoid of emotion. That's not to fault the book's author and subject Saroo Brierley. He simply wasn't equipped with the talent to translate his too-good-to-be-true story onto the page. Director Garth Davis certainly did. Lion could have easily fallen into the idealistic cookie cutter crowdpleaser category. However, Davis' vision of Saroo's journey is simultaneously devastating, yet filled with beauty, both human and cinematic.
Lion tells the true story of Saroo Brierley (Sunny Pawar), a boy who grew up as poor as one could in India — begging for scraps of food, caring for his young sister while his mother does hard labor. While following his older brother to a neighboring town, he becomes trapped in a train carriage. After two days on the train, being carried away from his mother, two brothers, and sister, he finds himself in Calcutta (modern-day Kolkatta). For months he must fend for himself by eating scraps of food and taking shelter under bridges. Eventually, he is taken into an orphanage and is adopted by an Australian family, Sue (Nicole Kidman) and John (David Wenham). Twenty years later as an adult (Dev Patel), Saroo decides to use Google Earth to find his long-lost family.
While the story has the plot of a Lifetime movie, it is true, yet improbable as it sounds. The journey Saroo takes is an incredible one. However, it's also one that could easily be exploited for its emotional beats. The issue with a lot of movies based on incredible true stories is that the focus of the emotion is on plot, rather than character. And while Lion certainly toes that line, writer Luke Davies keeps the focus on the character's emotional journey rather than the physical one. In particular, the character of Sue Brierley is given new life in the movie. In Saroo's memoir, he protects his mother from his attempts to find his birth mother in fear that he is going to hurt her. While that is stated, it is never seen. In the movie, we see Sue being affected, not by Saroo's search, but by the fact that he chose to hide it from her and that he was distant from her. It culminates in an incredible scene that reminds us of Nicole Kidman's talents. I suspect that it will be her Oscar scene.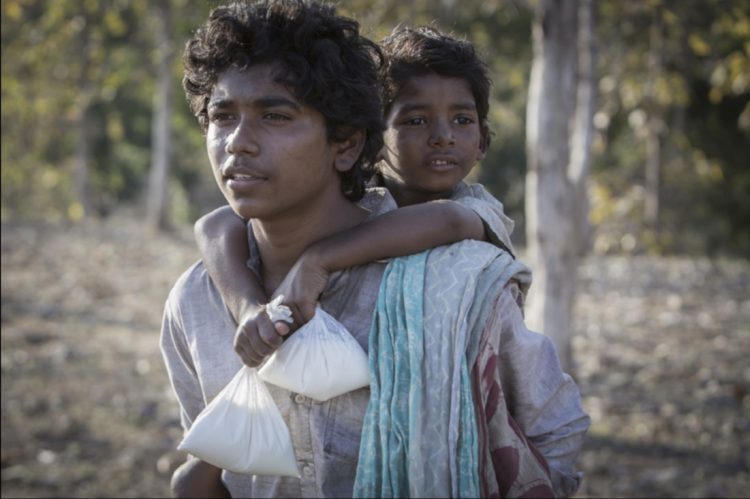 However, this is a story about Saroo and the movie does a lot to portray his emotional journey. Most of that falls on the shoulders of Dev Patel, who drives much of the story with his physicality and facial expressions. The shift from book to screen infused the story with an element of the mental toll that the story would take on a four-year-old boy and how it shapes the man he becomes. Sunny Pawar puts in some really great work as the young Saroo in a nearly wordless performance. Patel, on the other hand, depicts the psychological journey. While much of it is suggested with the editing — they cut in scenes from his past similarly to the way that a war movie would portray PTSD — Patel's reactions to the memories are even more important.
While the performances give an emotional center for the movie, the cinematography and score do all they can to support them. Cinematographer Greig Fraser, who has done some fantastic work including Zero Dark Thirty and Rogue One: A Star Wars Story, finally received an overdue Oscar nomination for his work. And while his work in Zero Dark Thirty is truly phenomenal — the raid scene ranks among the best shot scenes in the decade — his work on Lion certainly deserves its recognition. The way he lights the movie, which in this case was manipulating natural light, does justice to the skin tones of the Indian actors, which, unfortunately, is something that is quite rare. Though, the lighting does more than that. In addition to mixing stabilized and choreographed shots with uncontrolled ones, he used the natural lighting to give the movie a cinema verite realism that feels so grounded. However, as evidenced by the opening shot in the movie which finds Saroo between two hills surrounded by butterflies, Fraser also found the natural beauty of the landscapes he was shooting in.




Lion does have one fault, and that is in its editing. I find it hard to talk about the transition from book to the movie because you are awarding a certain dramatic license to the filmmaker. I can't fault them in the changes they made for the sake of simplicity and dramatic tension. My bigger issue is the way that they cut the story. Although the movie comes in at just under two hours, this is one of the few occasions that I wished the movie had been a bit longer. Or, I wish the movie had been distributed differently. I think one of the most affecting parts of the book is Saroo's portrayal of his life before "getting lost." In particular, the focus on hunger as a motivation and how common and easy it is for a child in India to be lost and never found. While the second half of the movie, which focuses on the older Saroo, is strong in its own right, the movie would have been more dramatically satisfying if we got to spend more time with the young Saroo in India.
All in all, Lion is simply a remarkable story that is told well. After reading the book and being less than impressed, it shows what strong filmmaking can do for a story. I imagine that a lot of people are going to skip this movie because it seems like the typical uplifting Hollywood fare. More than anything, though, it's a movie that is going to tear you down and build you back up again as a different person. That's something so rare, yet beautiful to experience. It is far from being a perfect movie. However, it is a completely delightful watch that will stay with you past the last frames. Even the most cynical won't be able to resist the charm of Lion.
★★★ out of 5


Lion is available on DVD, Blu-Ray, and digital rental on Amazon!