Closet Monster is a unique take on the LGBT coming-of-age genre with a stellar performance by Connor Jessup
The exploration of sexuality is a sub-genre that has emerged from under the glut of young adult coming-of-age stories. From Dee Rees' confident debut Pariah or Barry Jenkins' masterpiece Moonlight, the movies that encompass these themes are heartbreaking, but important in portraying stories that so often feel identical. While Stephen Dunn's Closet Monster doesn't quite touch the artistic heights set by those two films, his singular style and focused storytelling make it a strong entry into the canon of the gay coming-of-age genre.
There are those moments in the youth of LGBT kids when they realize that the feelings they are having are different from others. Before we even meet him as a teenager, Oscar (Connor Jessup) seems to be having those feelings. However, any exploration he might have been going towards is instantly stopped when he witnesses the brutal attack of a gay teen when he is 10. Just before that, his mother, Brin (Joanne Kelly) divorces his father, Peter (Aaron Abrams), and moves out, which leaves him with his hypermasculine father and his pet hamster Buffy (voiced by Isabella Rossellini) — she occasionally speaks to him and acts as his conscious. We skip years later to 17-year-old Oscar who is changed by the events of his childhood. Without a model relationship in front of him and the constant diminishing of any weakness he shows by his father, Oscar simply retreats into himself.
However, as with many teens, his sexuality comes into question when he forms a crush on Wilder (Aliocha Schneider), his free-wheeling co-worker at a Home Depot type store. As Oscar and Wilder get closer, Oscar's difficulty of dealing with his feelings, his father, and the stress of trying to get into a special effects makeup school in New York become entangled.
While it feels like Closet Monster is hitting the usual young adult beats, you quickly realize that it has other plans for its young protagonist. Dunn has even admitted that stories like this have been told before, but because it is so personal, that didn't matter to him. That intimacy is palpable.While Dunn's screenplay and direction have to be credited with that, Connor Jessup's performance is simply electric.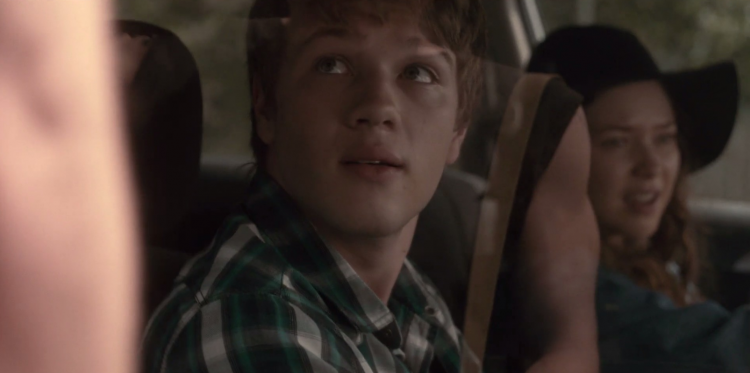 With near flawless execution, Jessup builds Oscar with his physicality rather than dialogue. The amount of emotion he's able to portray with just his face gives us everything we need to know about how he's feeling in a given moment. The scene in which he meets Wilder is almost devoid of dialogue on Oscar's part. However, the adolescence-filled sexual confusion is so easily discerned by his physicality and the way he reacts to Wilder. It's what made Ashton Sanders' performance in Moonlight so strong.
Closet Monster is a little obvious with its symbolism. From a metal rod representing his internalized fear of his true identity to Buffy being his connection youth and innocence. However, Dunn stylistically pulls off the movie's themes beautifully. By cementing our point-of-view with Oscar, he allows us to see what he sees and feel what he feels no matter how surreal they get — a talking hamster, the word unfortunately being scrawled on the walls and furniture after he receives a rejection letter from a college. It's imperative to the movie's success since it isn't plot heavy.
For a movie so focused on character, we aren't really given strong portraits of anyone but Oscar. While, of course, this is a movie about him and his struggle with identity, the people around him and how they affect him are integral to his journey. Since we view the movie from Oscar's point-of-view in two distinct times, we miss a lot of development from his father, mother, and Gemma (Sofia Banzhaf), his best friend. It makes understanding his actions towards them more difficult.
But this is Oscar's story. Closet Monster is one of those movies that you watch and understand because it feels so personal. Life doesn't always work out the way you plan. We don't get the triumphant happy beats that often bog down movies like this. Instead, we get moments between people, though difficult to watch, that define who we are.
Closet Monster is available for streaming on Netflix or rental on Amazon!