Hunt for the Wilderpeople marches to the beat of its own drum and offers up laughs, tears, and cheers. Sam Neill offers one of his best performances in memory while the world is introduced to a great new talent, Julian Dennison.
There is no other movie like Hunt for the Wilderpeople. That's because it balances so many elements that should be cliches and infuses them with sharp dialogue, charismatic characters, and a keen sense of wonderment — aided by the magical New Zealand countryside. It begins and ends in familiar places and is populated with character types we have come to love — the witty precocious kid, the cantankerous old man. But writer/director Taika Waititi infuses them with so much personality and charm that they feel completely original. The same goes for this offbeat world they inhabit — anyone who has watched his 2014 film What We Do In The Shadows knows his knack world-building — which falls somewhere in between Wes Anderson and the Coen Brothers. Still, the film is completely fresh and nearly impossible not to fall in love with.




The first time we see Ricky Baker (Julian Dennison), we feel as if we know the character. He's a troubled orphan from the city in the foster care system with a history of misbehavior — stealing stuff, throwing stuff, kicking stuff, graffitiing as his Child Welfare worker Paula (Rachel House) says. The movie is split into chapters, which makes it feel like a folk tale or legend being told, and the first is called "A Real Bad Egg." Paula brings him to the countryside in hopes of reeling in his bad behavior — for Paula "no child left behind" means that kids are issues that need to be squashed instead of loved. However, his foster mother Bella (Rima Te Wiata) — a woman that wears cat sweaters, but can also kill a pig with her bare hands — makes quick work of Ricky by showing him something he hasn't been shown before — compassion. That's just the first 10 minutes of the film. Waititi's screenplay and direction are storytelling efficiency at its best. Instead of long stretches showing Ricky coming to love his "Auntie" Bella, he does it in quick visuals — at one point Ricky untucks his bed to find a hot water bottle in bed for him and finds warmth, both literally and figuratively from it.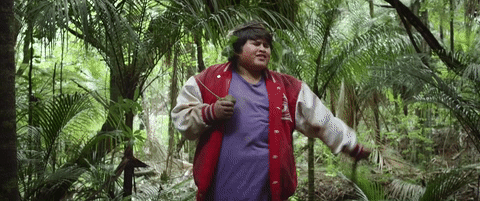 However, Ricky goes on the run, for reasons I won't spoil, with the intention of living off the land. The problem is that Ricky isn't suited for the wilderness and is soon found by Bella's husband Hector (Sam Neill) — he's a grizzled, old, cantankerous outdoorsman. After Hector hurts his ankle on the way out of the bush, he and Ricky must camp out for a couple weeks while he heals. In that time, however, a national manhunt — swat teams, helicopters, dogs, and all — ensues after it's assumed that Hector kidnapped Ricky. The duo goes on the run, which leads to hilarity along the way. It's the classic mismatched pair setup. Ricky is ill-equipped to live in the wilderness — he eats through his rations within the first hour. Hector, on the other hand, is an experienced outdoorsman. Ricky passes time by writing haikus, while Hector hunts for eels. As the chase goes on longer, the story gets national attention and the two become famous. But more importantly, this road movie set up lets the two discover that once you strip away the constraints of society, you can become something more than you're destined to be.
Between Hunt for the Wilderpeople and What We Do In The Shadows, Taika Waititi has proven himself as one of the finest writer/directors working today. Not only are the world and characters he created wonderfully offbeat, but the lens he films them in is as well. He builds characters in a way by making you underestimate them, then letting the actors do the work to blow your expectations away. Sam Neill, who is the best-known actor in the cast, does great work to make Hector a complex father figure to Ricky. But it's Julian Dennison who truly steals the show with his hilarious take on Ricky Baker. He could have easily let the role become the stereotypical obnoxious kid but throughout the movie, he shows hints of the hard life that his character had to endure. The movie has a strong beating heart and Dennison is at the center of it.




The movie is a bit of Up, a bit of Moonlight Kingdom, but Waititi's DNA is all over it. Though his writing takes center stage with sharp jokes that land every time to references to The Lord of the Rings, Rambo, and Terminator, he also proves that he's a filmmaker more than able to translate a story beautifully to screen. My favorite example of this is a scene where he plants the camera and rotates it 720 degrees to portray the manhunt over a period of time. While he could have stitched the scene together in post, he instead did the effect in-camera and had the actors run in and out of the frame and utilized body double to create a whimsical, memorable, and efficient piece of storytelling. It's that kind of quality that makes Hunt for the Wilderpeople a cinematic achievement on every level.
I think you'd be hard pressed to find someone who won't at least like Hunt for the Wilderpeople. It has everything you want in a film — memorable characters, an interesting story, and, most importantly, heart. Though it's the film's ability to make you roar laughing and quietly stifle tears that make it unique and one of the best comedies to come out in years. Taika Waititi has had a successful career in New Zealand on smaller movies. However, his next project is the massive Thor: Ragnarok. It sounds like a weird choice, but if Hunt for the Wilderpeople is any indication, he is a perfect filmmaker to tackled the franchise. As for the Julian Dennison and his career ahead, I have four words — sh!t just got real.
★★★★½ out of 5


Hunt for the Wilderpeople is available for digital rental on Amazon!