Told with utter efficiency and blessed with incredible fight sequences, this darkly funny action flick will have you saying the name John Wick for years to come.
John McClane, Jason Bourne, and now, John Wick. Once and a while an action movie comes along and breathes new life into the genre. John Wick couldn't come at a better time to save us from the assault of movies that attempted to be the next Taken. Instead, we're treated to a movie that combines the suave filmmaking of Skyfall, the sly visual humor of Die Hard, with truly singular action sequences. John Wick may be one of the best action movies of the decade that will be attempted to be replicated over and over again to middling success. However, we'll alway remember the rip-roaring original as a pinnacle of the action genre.
The movie begins with the death of John Wick's (Keanu Reeves) wife to a terminal illness. Though devastated by her loss, he finds solace in her parting gift to him: a puppy named Daisy. After a run-in with a group of young Russian — wannabe — mobsters, led by Iosef Tarasov (Game of Thrones' Alfie Allen). Iosef approaches Wick at a gas station and offers to buy his beloved '69 Boss Mustang. After refusing, Iosef — best described as a spoiled brat — breaks into Wick's house, beats him, steals his car, and *trigger warning* sends that adorable little puppy to the farm. Needless to say, Wick doesn't take this well. You see, John Wick is not just a retired assassin. He is THE retired assassin. "Well, John wasn't exactly the Boogeyman. He was the one you sent to kill the fucking Boogeyman," as Iosef's Dad Viggo (Michael Nyquist), the head of the Russian mob, says.




Instead of falling into turmoil, John sets off on a warpath to do one thing — kill Iosef. Of course, he has to get through countless henchman, Viggo, and a kickass assassin named Ms. Perkins (Adrienne Palicki). This gives us a sleek, turbo-boosted 90-minutes of pure action that can be summed up with one word: awesome.
Director Chad Stahelski — a former stuntman — directs and captures action in a way that few directors are able to. Unlike the shaky cams and quick cuts that made the Taken movies nearly unbearable, Stahelski makes the action linear and films it with a steady eye that lets you appreciate every move and shot. However, it's the fight choreography that will make John Wick join the pantheon of action movies. Not only is the martial arts riveting, it has a rhythm to it that makes them so beautiful to watch no matter how brutal they get. Wick doesn't waste a single bullet, do a move that's unnecessary, or exert any more effort than he needs. His movements feel like he is an assissin as much as Reeves' performance does. It also applies the Bond formula of visual comedy by adding touches that are effectively punchlines within the fight scenes.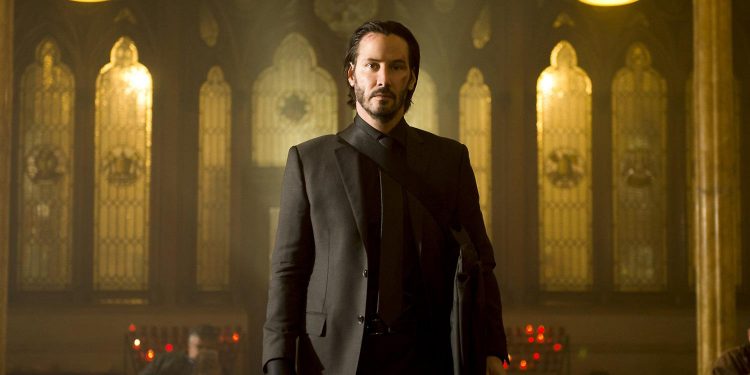 The fluidity continues into the screenplay, which builds the world and characters with streamlined efficiency. Without a single exposition all line, the entire world of this criminal underbelly of New York — complete with assassins, Russian mobsters, and a contract killer hotel — is constructed. When we first meet Viggo, he is informed that his son stole from John Wick. His response is a simple: "Oh." It's that expositional efficiency that makes this movie such an effective action movie. With that simple "oh," we know everything we need to know about John Wick.
More than that, the world that John Wick inhabits is more interesting than any action movie with terrorist groups or secret government agencies. Without directly addressing it, you are dropped into a world of interconnected hitmen — and women — who are part of an exclusive and elegant club called the Continental, which owns hotels and bars which these people can frequent without fear of being offed by a fellow guest. The detail — code names, symbols, people — is exquisite and a master show of world building. No exposition. No lower thirds. The screenwriter and director trust that the audience can figure out this universe. That's something so rare in action and incredibly appreciated.




John Wick is a hit movie that feels like a cult classic. It has all the makings of one — the quotable lines, endless world — but its effortless broad appeal will help it reach the right audience. And while action junkies will get everything they ask for and more, cinephiles will be able to dissect everything else it has to offer. Simply put, John Wick is probably one of the best action movies in a decade. From an efficient story to incredible fight sequences and an action start that just doesn't seem to quite, John Wick is as close to perfect as I've ever seen. If anything, my one criticism of the film is that its finale isn't able to live up to the action sequences that come before it. No matter what, a decade from now we will remember the name… Daisy. Like come on! The dog!
9/10