That's Not Us is a summery relationship drama that feels relatable, which makes the fact that it's improvised more impressive
Relationships live and die in those unspoken moments — when you're not saying what you mean or you avoid speaking your feelings altogether. That's what That's Not Us concerns itself with. It's an intelligent relationship drama that feels mature. One that understands its characters and the audience it's speaking to. Even more than that, it portrays LGBT couples in a way that they aren't often portrayed in movies — as normal couples working through their issues.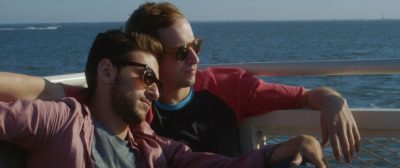 That's Not Us follows three couples vacationing together on a New York island before the summer comes to an end. The vacation, which is supposed to be a boozy escape among friends before returning to the real world takes a turn when the couples learn that not all is good, even in paradise. James (Mark Berger) and Spencer (David Rysdahl) recently moved in together, but are thrown for a loop when Spencer is accepted into grad school in far away Chicago. Liz (Elizabeth Gray) and Alex (Sarah Warton) haven't had sex in months and Alex's attempts to remedy the situation seem to only make it worse. Dougie (Tommy Nelms) and Jackie (Nicole Pursell) are in the honeymoon phase of their relationship, but when the simple act of teaching Dougie how to ride a bike comes up, they learn that the fun and games only last so long.




While the set-up doesn't seem too far off from other movies, That's Not Us sets itself apart by being almost entirely improvised. Director William Sullivan devised outlines of the plot and put it on the actors to build dialogue around it. Sometimes it sounds awkward and cliched with lines like "just tell me how you fucking feel" coming up more than once. However, it feels natural still. Conversation isn't limited to the mundane. In fact, when passion arises, arguments can become poetic.
That's Not Us isn't a perfect movie. The characters at some points fall into cliches and the Dougie storyline doesn't really add up as well as the other two. However, for anyone who has been in a long-term relationship, there is a degree of familiarity. Scarily so at some points. That's Not Us touches on that period of transition between honeymoon and understanding in a relationship. For a feature with no clear scripts and micro-budget, it's an impressive feat and definitely one of Netflix's hidden gems.
7/10
That's Not Us is available for streaming on Netflix or Digital HD on Amazon!