Reigning Best Actress winner Emma Stone should return to this year's lineup, but Sally Hawkins' near-silent performance is the one to beat.
Even though it's early in the season, the race for Best Actress is already shaping up to be one of the most competitive of the year. With the Venice and Telluride Film Festivals in the rearview, there are already enough actresses with legitimate shots at nominations to fill out two ballots.
The reigning Best Actor and Actress champs are often nominated for their follow-up films after winning. That's why Emma Stone (Battle of the Sexes) has a strong shot of at least a nomination for her performance as Billie Jean King. Not only is she portraying a real person, she is the "hero" of her film, which means that you're really rooting for her the entire time. However, it's very rare for an actor to win Oscar in close proximity to one another, let alone back to back. The most recent example is Tom Hanks winning for Philadelphia and Forrest Gump in 1993 and 1994. Stone should be back in the race, but a win may be off the table.
Another actress getting strong notices is Saoirse Ronan (Lady Bird). At just the age of 23, she has two Oscar nominations under her belt, and her performance in Greta Gerwig's directorial debut could land her her third. However, the movie isn't exactly typical Academy bait. A comparable performance would be Ellen Page, who was nominated in 2008 for Juno. However, Lady Bird would have to break into the cultural zeitgeist in a similar way to Juno to really make Ronan a contender. It's just too early to tell at this point.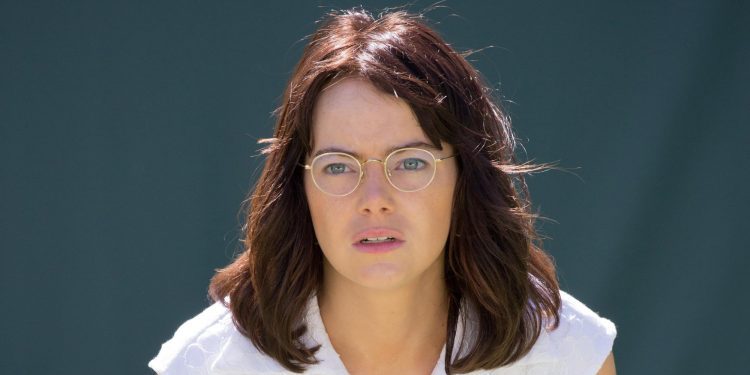 2018 Oscar Predictions" width="720" height="360" srcset="http://smashcutreviews.com/wp-content/uploads/2017/09/image-74e1119c-47b6-4bf7-86-e1504748935757.jpg 750w, http://smashcutreviews.com/wp-content/uploads/2017/09/image-74e1119c-47b6-4bf7-86-e1504748935757-400x200.jpg 400w, http://smashcutreviews.com/wp-content/uploads/2017/09/image-74e1119c-47b6-4bf7-86-e1504748935757-300x150.jpg 300w" sizes="(max-width: 720px) 100vw, 720px" />
Sally Hawkins (The Shape of Water) is one of the most underrated actresses in Hollywood today and the industry knows that. So, with the strongest reviews for an actress coming out of the early festivals, she's arguably the frontrunner for the win at this point. The question is whether or not the Academy will embrace the fantasy heavy film.
Also in the mix are veterans Frances McDormand (Three Billboards Outside Ebbing, Missouri), who is receiving raves for her fiery performance, and Annette Bening (Film Stars Don't Die In Liverpool). Despite mixed reviews for the film and Bening's performance, her snub for 20th Century Women last year and her place as an Academy governor always keeps her in contention.
There are still countless performances yet to come that will change up the race. Kate Winslet (Wonder Wheel) has the fact that her movie will be a strong contender across all categories, Meryl Streep (The Post) is Meryl Streep, and Claire Foy (Breathe) will be getting a huge bump with The Crown coming back in the height of awards season. Perennial Oscar bridesmaids Jessica Chastain (Molly's Game) and Carey Mulligan (Mudbound) will be looking for that elusive Oscar and Cannes winner Diane Kruger (In The Fade) could take the foreign language actress spot that has been forming for the past couple years.
Last, Daniela Vega (A Fantastic Woman) is getting great acclaim for her role and has already drummed up a lot of awards buzz. I thought it was important to mention her because if she is nominated, she will be the first trans performer to ever be nominated for an acting Oscar. She has a strong narrative going for her. Watch out. She is the awards season dark horse you wish you saw coming.
Check our all our 2018 Oscar Predictions!
Current Rankings:
Sally Hawkins,

The Shape of Water

Meryl Streep,

The Post

Emma Stone,

Battle of the Sexes

Frances McDormand,

Three Billboards Outside Ebbing, Missouri

Kate Winslet,

Wonder Wheel
—

Saoirse Ronan,

Lady Bird

Daniela Vega,

A Fantastic Woman

Diane Kruger,

In the Fade

Carey Mulligan,

Mudbound

Jessica Chastain,

Molly's Game

Claire Foy,

Breathe

Annette Bening,

Film Star Don't Die In Liverpool