Much Ado About Nothing finds Joss Whedon at his sharpest and most creative
I have something to admit. The 1993 film Much Ado About Nothing is one of the movies that made me fall in love with cinema. Partially because it was the first film adaptation of a Shakespeare play that I watched, and partially because of the performances of Emma Thompson and Kenneth Branagh. I've never seen two actors delve so passionately into Shakespeare. As incredible his prose is, it takes more than your high school English teacher to perform it properly. Branagh has such respect for the material. So, when I heard that another filmmaker was going attempt to adapt my favorite Shakespeare play, I was a bit skeptical. Who could possibly do the source material justice, while still making the film their own? Then, I heard Joss Whedon was directing, writing, and producing the film. Let me just say I was overly ecstatic.
For you uncultured folk, which is probably few of you since you're on this website (obviously), the story of Much Ado About Nothing is a simple one that is actually more complex than it seems. The play follows two couples who are essentially tricked into thinking certain things about their feelings for their respective partners. Love or Hate. Faithfulness or Betrayal. It is, in my opinion, not only Shakespeare's best comedy but also his best romance. I adore this play.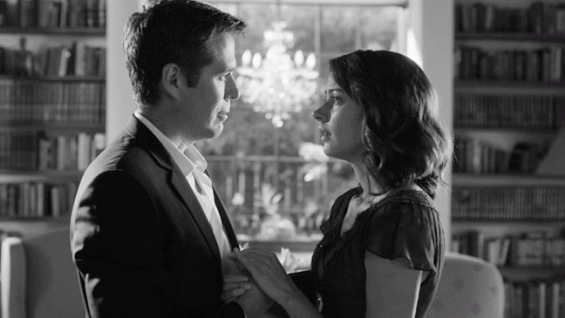 Joss Whedon produced the film with what could be seen as a micro-budget, which is basically free considering his other film in 2012 was Marvel's The Avengers. With Whedon's home supplying the residence, many of his friends and past collaborators making up the cast, and completing the film in a mere 12 days, the film could be one of the simplest films produced in years. Even the DP didn't have a lighting budget, he used this crazy thing called the sun. Just reading up on the project made me completely happy.
Whedon made very small changes to the script and plot. In addition to the modern setting, the one obvious change was a small scene at the beginning of the film that more specifically defined the relationship between Beatrice and Benedick. The scene also did one other thing. It established the film's offbeat comedic tone that you wouldn't really expect from a play from Shakespeare. He may be 400 something years old, but the man was a riot. However, Whedon's direction took the film from being a funny play to a hilarious love story. Small movements from the actors, their facial expressions, their delivery, coupled with Whedon's slight visual humor made the entire film a joy to watch.
Speaking of his visual style, you would never guess that this was the man that brought you Buffy the Vampire Slayer, Angel, or The Avengers. The humor could range from simple sight gags to something manic and in your face, but his decision to film in black and white gives the film a magic that keeps you excited throughout. However, that is partially due to the performances from the cast particularly those of Amy Acker, Alexis Denisof (Wesley!), Fran Kranz, and Nathan Fillion.
I have to say. Much Ado About Nothing could be one of my favorite adaptations of a Shakespeare play. It had everything you need to successfully adapt Shakespeare: (1) a competent director who knows the material and can visually match it; (2) actors that are passionate enough to play the material and talented enough to pull it off (I mean, it's Alexis Denisof, Amy Acker, Nathan Fillion, and Clark Gregg, not much could go wrong); (3) enough unique style to keep viewers entertained. Whedon was able to make Shakespeare understandable, which is not always an easy feat, especially in this generation. If you're looking for a great date night flick with a little culture, this one is for you.
7.5/10
Much Ado About Nothing is available on DVD, Blu-Ray, and digital on Amazon!