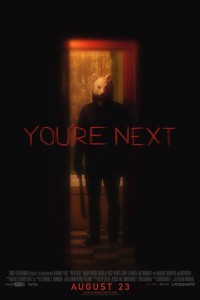 The first time I watched You're Next was when it finally made it to a wide release after making the rounds at festivals for nearly two years. Although it already had a lot of premise-bias against it, its biggest hurdle was to overcome the success of "The Conjuring," which premiered earlier that summer. Although "The Conjuring" didn't make any strides for the genre, it did what a horror movie was meant to do: horrify. You always have to take caution with indie horror films. Sometimes they become more niche than you would have liked them to be. However, You're Next
Coming out of my first viewing of "You're Next" I was a bit unimpressed. I walked in with high expectations considering the story behind its release and the strong buzz surrounding the movie. However, I couldn't help but feel a bit gipped by the film. I wasn't incredibly scared, I wasn't charmed by it like some, I found it to be a moderately successful home invasion film. However, upon my second viewing on Netflix, the film got me, and it got me good.
You're Next tells the story of the wealthy Davison family, headed by Paul (Rob Moran) and Aubrey (Barbara Crampton). They, along with their adult kids, spend a weekend at their vacation home in a remote location in the woods, but the film quickly takes a turn for the worse as masked assailants begin murdering the family members one by one. As the night of terror unfolds, our heroine, Erin, brilliantly played by Sharni Vinson, somehow makes it out of close calls and terrible violence to solve the mystery of who is attacking the family.
I'm going to say this in all caps because it needs to be said in all caps: ERIN IS A BAMF! So much of the success from the second half of the film when the jump scares and black humor subside is attributed to the character of Erin and Sharni Vinson's performance.
Horror fans will love the clichéd characters and frequent jump scares, while film snobs can take solace in the fact that this is indeed a homage to the genre. For everyone else, this will be a thoroughly entertaining night of thrills and gut-busting humor. Along the way, we do experience unlikable characters and some absurdity that one should expect from this kind of film. But these common missteps never prevent one from enjoying everything else it has to offer.
"You're Next" is one of those rare films that knows exactly what it is and aims directly for it. The mix of gore, humor and familiarity takes the film from being a passable "B" movie to a successful and well-executed homage that may change the way we view the genre.
Do you have a suggestion for a Netflix Flick of the Week? Tell us by tweeting at us with #NetflixFOTW and maybe it'll be featured on Smash Cut!