Set in a Brazillian village in the near future, Bacurau follows the inhabitants as they become the victims to a sinister set of events.
One-sentence review: Bacurau is a wonderfully weird western that is as funny as it is hard hitting and thrilling.

Details: 🎬 Kleber Mendonça Filho & Juliano Dornelles // 🇧🇷 Brazil // ⏳ 130 minutes

The cast: Sônia Braga, Udo Kier, Bárbara Colen

Where to watch Bacurau: Playing at the New York Film Festival October 1st & 2nd. Tickets here.

The inhabitants of the small remote fictional Brazilian village Bacurau don't know it yet, but they're at the center of a sinister act of greed, racism, and privilege. There are signs of the impending events. One night dozens of horses stampede through the center of the town. The truck that supplies the village with water comes into town with bullet holes in its side. When one of the village's leaders and teacher (Wilson Rabelo) goes to show his students where Bacurau is on a map, it's missing. Oh, and there's a UFO-shaped drone stalking people.
All the oddball energy extends to the cast of characters that call the village home. There's the boozed-up doctor unafraid to speak her mind (Sônia Braga), an outlaw who can never turn his menace off (Thomas Aquino), and a DJ who doesn't have a radio station and instead just broadcasts on giant speakers for anyone to hear.
The tone of the movie is so unexpected but delightful. It's like the weird western that Quentin Tarantino never made, except it's a little lighter and sillier. There are so many small quips and observations from characters that make you want to hang out with them more — the movie might have taken inspiration from Bong Joon-ho's work. Unfortunately, we have to see them go through some pretty… ahem, difficult things.
The community is tight-knit. Almost alarmingly so. They're so wary of outsiders that even when the skeevy mayor (Thardelly Lima) pays a visit they all hideout as he tries to buy their affection with less than stellar gifts — books dropped off by garbage trucks, illegal prescription medicine, expired food. The inhabitants of Bacurau are the heart of the movie.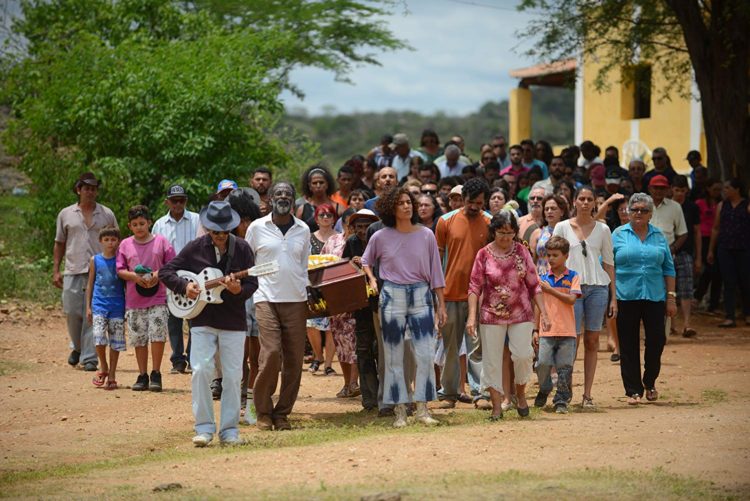 It would be extremely difficult to review Bacurau without revealing at least in some part where the movie leads. However, that's also part of the fun. So, I will say this before diving further into details. This movie is a genre-bender. It's a western, a satire, a comedy, an action movie, a mystery all rolled up into beautifully packaged — and wild — narrative. And it ends up nowhere you think it would.
⚠️ Light spoiler warning.
Eventually, the villagers realize that something is amiss. Along with all the weird events happening, they discover some inhabitants murdered. It's revealed that the village is about to be besieged by a group of heavily armed American tourists in a twist of The Most Dangerous Game or The Purge. Another inspiration, as evidenced by the score and opening credits, is John Carpenter's Assault on Precinct 13.
We get to know this group and their motivations as well as the villagers. And it's laid out pretty bluntly that this is an allegory for colonialization, class warfare, and the current political climate in Brazil and throughout the world. Exploring those themes as a sendup of 70s westerns and exploitation movies is a brilliant decision.
While a lot of the movie's themes and its portrayal of the community and its lore, which in some parts nearly veer into fantasy, are so specific to Brazil. There are so many threads connecting it to what's happening in the United States. In fact, the white tourists, who are clearly parodies of rural Americans, feel entitled to their "hunt" of the villagers. For them, it only makes sense.
If I have one complaint about Bacurau it's that, whether intentional or not, the filmmakers clearly outline — almost too clearly — the message they're trying to get across. It's almost propagandist. However, that is forgivable because they go so hard on the quirkiness and camp of it all. Bacurau is a pure, hilarious, violent, and surprising delight.