The Jungle Book has maintained its frontrunner status throughout the season for Best Visual Effects. But we think an upset is brewing.
With incredible and groundbreaking photorealistic effects, The Jungle Book is the clear choice in Best Visual Effects. It would be a similar winner to Life of Pi. However, the biggest issue with it winning is that it the past eight winners of this award had a nomination in at least one other category — the same amount of time the new voting system was in place. The Jungle Book not only doesn't fit this. It's the only movie with one nomination. That could leave it open for an upset.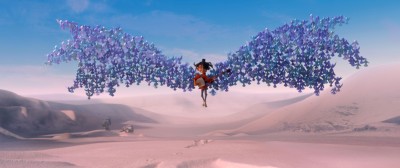 The most likely contender would be Kubo and the Two Strings. After nabbing a surprise nomination, similarly to Ex Machina last year, it could muster up enough support because of the publicity it received. The only issue is — which also separates it from a pulling off an Ex Machina style upset — is that there is a clear frontrunner in the category. The reason Ex Machina upset is because Mad Max: Fury Road and The Revenant probably split the vote. There really isn't another film that could draw votes away from The Jungle Book. However, it has a nomination for Best Animated Feature, which fulfills the criteria of having a nomination in another category.
But, of course, there's the issue of no animated movie winning this category. The only other animated film to be nominated was The Nightmare Before Christmas. But, go big or go home, right? Let's go with Kubo.
Check out all our 2017 Oscar Predictions!
Will Win: Kubo and the Two String
Could Win: The Jungle Book
Dark Horse: Deepwater Horizon
Should Win: Kubo and the Two Strings