The Best Picture race this year is one of the most unpredictable with no clear frontrunner emerging. Though, Dunkirk is definitely going to put a fight for the title.
Get Out is certainly not your typical Oscar movie. It's a comedy, a genre the Oscars tend to ignore, and a horror movie, which the Oscars really tend to ignore (at least in Best Picture). On top of that, the cynical Academy often shy away from satirical films — though Birdman did win mostly because it's a Hollywood satire. However, what Get Out has in its favor is its incredible box office, strong reception across the board, and its place in the cultural zeitgeist. It's that kind of conversation that is going to drive the movie through award season.
Another early entry that is arguably the closest thing we have to a frontrunner is Christopher Nolan's Dunkirk. It has a lot going for it. It's a war movie that was well-received and had a healthy box office. However, Nolan has had a mixed success rate at the Oscars. Inception remains his only Best Picture nominated movie and he was even snubbed for Best Director. But he does have to be credited for the way the Best Picture category is structured today. After The Dark Knight was snubbed, there was a big push to expand the Best Picture category from 5 to 10 nominees.




Plus, Dunkirk is easily his most accessible movie. There are also early indications that Nolan is willing to put in some campaigning. He showed the movie at the Toronto International Film Festival even though it came out two months prior. If I had to pick a front-runner, this is it. But it's not a confident one.
Throughout the entire year, there has been strong buzz for indie darling Call Me By Your Name. The movie has its fervent fans, critical acclaim, and has slowly been building buzz online as its release date approaches. Plus, coming off the heels of the first-ever LGBT Best Picture winner can't hurt. There tends to be an indie darling in the race and Call Me By Your Name certainly seems to be it.
Of the last nine People's Choice Award winners at TIFF went on to be nominated at the Oscars. This year, the winner was Three Billboards Outside Ebbing, Missouri. Though it's being sold as a dark comedy, it's really an intense drama that has a lot of weight on today's societal climate. Barring a horrible box office, I think it's safely in.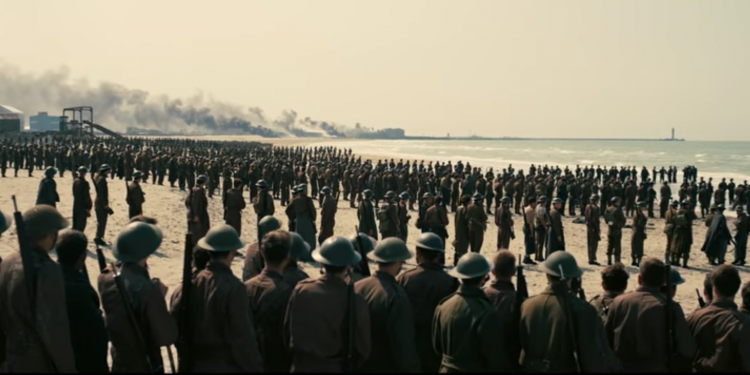 With its high critical acclaim, strong box office, and buzz, Lady Bird might be the dark horse in this category. Greta Gerwig is well-respected in the industry and this film could certainly lead to a Best Director nomination for her. The question isn't if the film will be nominated, it's how close it can come to winning.
The last contender that I'm confident about is Joe Wright's latest The Darkest Hour. If there's one Best Actor nominee that I'm completely confident about, it's Gary Oldman for his role as Winston Churchill in the movie. I think that fact alone helps the movie a lot. However, though the Academy's choices are evolving as they get younger and more diverse, the older contingent will probably push this traditional Oscar movie through.
Now the waters get a little murkier. Guierrmo Del Torro's The Shape of Water had a buzzy premiere at Venice and even won the top prize. On top of that, Sally Hawkins is in the lead to win Best Actress. However, that could also be a detriment. Best Actress winners' movies rarely win Best Picture. Even last year when everyone thought it would happen… well, you know the rest. On top of that, the logline for the film certainly isn't the most Academy-friendly. Still, it has its fervent fans so it'll definitely be in the conversation and at this point, it looks like it's getting in.
Blade Runner 2049 was in the perfect position to nab a nomination with a high-minded sci-fi movie making it in roughly every year since 2010. However, with its weak box office, it might not be able to break in, especially with Dunkirk taking the blockbuster spot.  




Depending on the number of nominees this year, there will be one or two more slots left. It's hard to predict movies that have yet to come out, but if there's a director I'm confident in with the Oscars, it's Steven Spielberg. Even the poorly received and barely remembered War Horse made it in. Which is why The Post is going to be a contender, even though it doesn't come out until December.
Paul Thomas Anderson hasn't been nominated for Best Picture since There Will Be Blood, but Phantom Thread will be Daniel Day-Lewis' final performance, which will put a lot of heat behind it. The Greatest Showman, a Hugh Jackman circus vehicle, is going to be a hit or miss late December release. It can certainly shake up this race. Lastly, The Florida Project has a chance to breakthrough with its high acclaim and solid box office returns. Although, it doesn't seem to have the buzz in this category, though it is certainly a contender.
Check out all our 2018 Oscar Predictions!
Current Predictions (in alphabetical order):
Call Me By Your Name
Darkest Hour
Dunkirk
Get Out
Lady Bird
The Post
The Shape of Water
Three Billboards Outside Ebbing, Missouri
Other Contenders:
Blade Runner 2049
The Florida Project
The Greatest Showman
Molly's Game
Phantom Thread
Star Wars Episode XIII: The Last Jedi